I got my Pinterest going, so you don't have to! Here are five recipes to try that are a fresh take on classic Christmas dinner favorites.
Cranberry Walnut Brussel Sprouts (Taste of Home)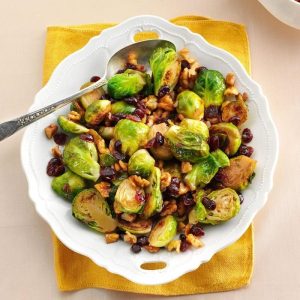 Ingredients:
1/4 cup olive oil
1 pound fresh Brussels sprouts, trimmed and halved lengthwise
1/2 cup dried cranberries
2 tablespoons water
1/3 cup chopped walnuts
2 tablespoons balsamic vinegar
Directions:
In a large skillet, heat oil over medium heat. Place Brussels sprouts in pan, cut side down; cook 4-5 minutes or until bottoms are browned.
Add cranberries and water; cook, covered, until Brussels sprouts are crisp-tender, 1-2 minutes. Stir in walnuts; cook and stir until water is evaporated. Stir in vinegar.
Honey Garlic Green Beans (More than meat and potatoes)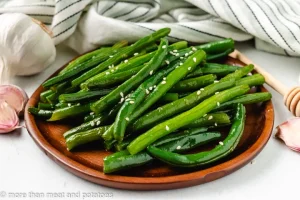 Ingredients:
2 Tablespoons Honey
2 Tablespoons Soy Sauce
2 Garlic Cloves, minced or pressed
Red Pepper Flakes, optional
Salt to taste
1 Pound Fresh Green Beans, ends trimmed
1 Tablespoon Sesame Oil
Directions:
Wash and trim the ends off the green beans. Set aside.
In a small bowl, whisk together the honey, soy sauce, garlic, red pepper flakes (if using), and salt. Set aside, and bring a large pot of salted water to a boil.
Add the green beans to the boiling water, and cook for 2-3 minutes until the beans are bright green. Drain, and immediately place the green beans into an ice bath. Drain again.
Heat a large skillet over medium heat, and add the sesame oil. When the oil gets hot, add the green beans, and sauté for 4-5 minutes or until the beans reach the desired consistency. Pour on the honey soy sauce mixture. Toss to coat, and cook for another 2-3 minutes.
Sprinkle with toasted sesame seeds, and serve hot as a side dish. Store leftovers in the refrigerator for up to 3 days.
Twice Baked Sweet Potatoes with cheese and bacon (My Recipes)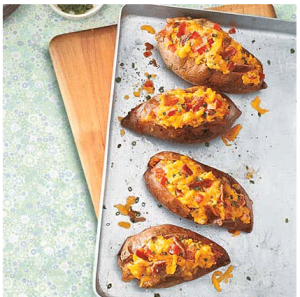 Ingredients:
4 medium sweet potatoes, scrubbed
4 slices bacon
6 ounces shredded Cheddar (about 2 cups)
½ cup sour cream
¼ cup chopped chives
2 plum tomatoes, seeded and chopped
Salt
Directions:
Preheat oven to 425°F. Line a baking sheet with foil. Pierce potatoes all over with a fork and place on a microwavable plate. Microwave on high until tender, 12 to 14 minutes, turning once. Let cool slightly.
In a large skillet over medium-high heat, cook bacon, turning, until crisp, about 8 minutes. Transfer to a paper towel-lined plate to drain. When cool enough to handle, crumble bacon.
Cut a thin slice off top of each potato and discard. Spoon insides of each potato into a bowl. Stir in 3/4 of cheese plus sour cream, chives, bacon and tomatoes. Season with salt. Spoon into potato skins (filling will mound up very high). Place on baking sheet, sprinkle tops of potatoes with remaining 1/4 of Cheddar and bake until cheese is golden brown and bubbling, about 10 minutes.
Walnut & Fig Goat Cheese Log (Punchfork)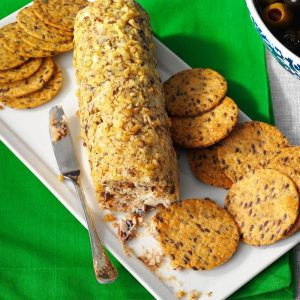 Ingredients:
2 logs (4 ounces each) fresh goat cheese
8 dried figs, finely chopped
1/2 cup finely chopped walnuts, toasted, divided
3/4 teaspoon pepper
1 tablespoon honey, optional
Assorted crackers
In a small bowl, crumble cheese. Stir in figs, 1/4 cup walnuts, pepper and, if desired, honey. Shape mixture into a log about 6 in. long. Roll log in remaining walnuts. Refrigerate 4 hours or overnight. Serve with crackers.
Garlic Herb Mini Quiches (Taste of Home)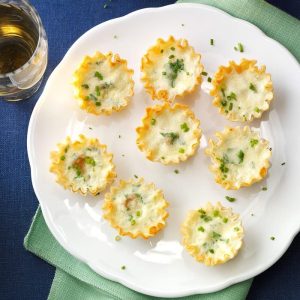 1 package (6-1/2 ounces) reduced-fat garlic-herb spreadable cheese
1/4 cup fat-free milk
2 large eggs
3 packages (1.9 ounces each) frozen miniature phyllo tart shells
2 tablespoons minced fresh parsley
Minced chives, optional
Preheat oven to 350°. In a small bowl, beat the spreadable cheese, milk and eggs. Place tart shells on an ungreased baking sheet; fill each with 2 teaspoons mixture. Sprinkle with parsley.
Bake for 10-12 minutes or until filling is set and shells are lightly browned. Sprinkle with chives if desired. Serve warm.