Mississippi State is honoring World War II veterans, including a number of former students who gave all they had to defend freedom around the world in the early 1940s.
The university unveiled a new WWII monument outside Nusz Hall, home of the G.V. "Sonny" Montgomery Center for America's Veterans on campus during a formal ceremony Monday [Oct. 2].
MSU President Mark E. Keenum said the monument dedication is one way for the university to say "thank you" to veterans and all who have served. While the university already has some historic markers commemorating veterans, additional monuments honoring U.S. veterans of other wars also are being planned.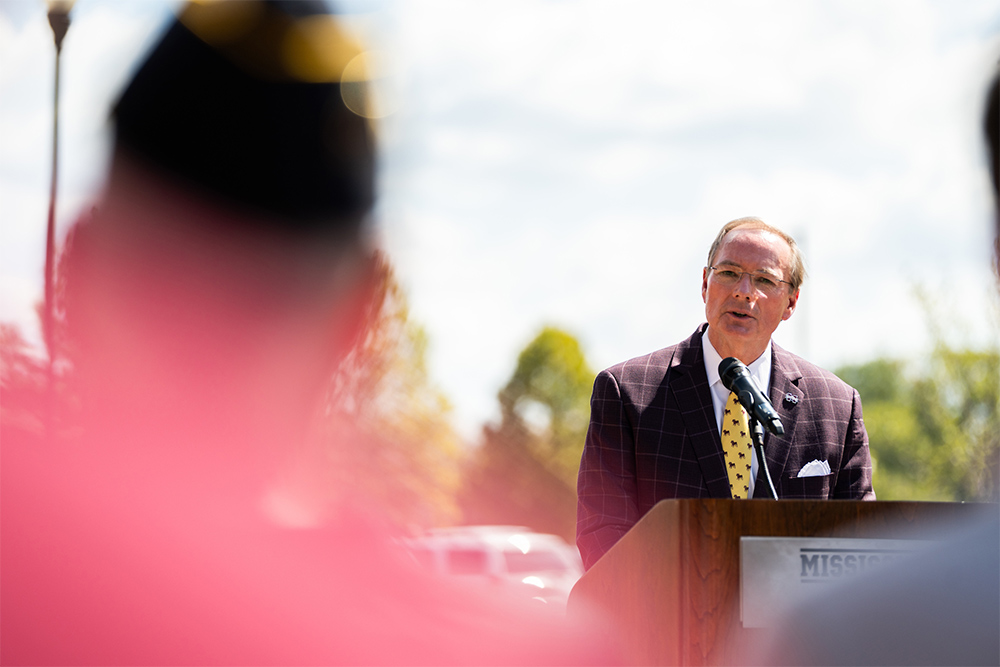 Keenum recalled viewing, as a child, the Purple Heart which his great grandmother kept in her home after it was awarded to his great uncle, Alvin Jeffords, who was killed during WWII.
"I can't imagine as a parent sending my teenage son off to war and him not coming back—the pain and the hurt that I know she felt from that. But he gave his life and all of his future years—decades of life and his future family that he most certainly would have had—to defend this nation and the freedoms that we so frequently take for granted," Keenum said. "I recognize and realize the suffering and sacrifice that's involved in defending this nation."
Keen recognized current service members who are committed to answer the call for "whatever it may be," and thanked other veterans attending the dedication.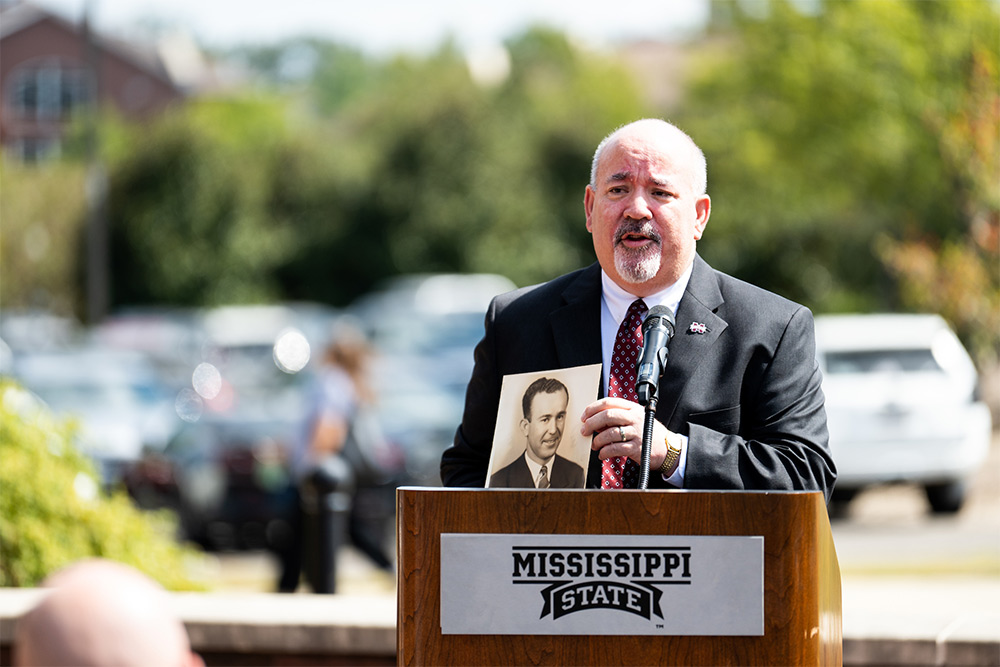 MSU Vice President for Strategic Communications Sid Salter shows a photo of his late father, Leo Salter, an MSU alumnus and WWII veteran who fought at the Battle of Normandy on D-Day. (Photo by Grace Cockrell)
MSU Vice President for Strategic Communications Sid Salter also represented families of WWII veterans during the program and shared memories of his late father, Leo Salter, who survived D-Day at the Battle of Normandy, where many close comrades died in high numbers.
"When Dec. 7, 1941 transpired, he felt the need, because of his connections to Mississippi State—we still were somewhat of a military school back then—he felt the need to enlist and serve and to respond to this attack on our country," Salter said of his father.
He said for much of the war, his father, who was part of the Signal Corps, enjoyed relative safety but that changed during what he called "the most terrifying ride of his life" in approaching Normandy for combat. His comrade was killed right beside him almost immediately, but Salter said his father continued toward the cliffs overlooking Normandy Beach.
"On that day, 2,600 Americans lost their lives on the beaches of Normandy. My father survived," he said describing the unimaginably difficult mortal combat that ensued that day.
Salter said 16,000,000 American veterans served during WWII, and about 119,000 of them are left in the U.S. today, with an average age now of 99. About 910 remain in Mississippi.